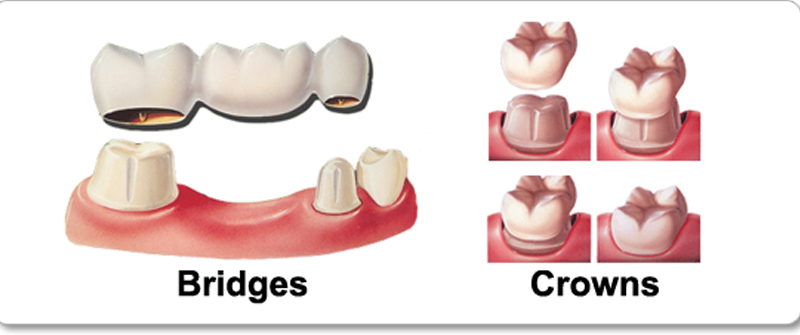 Crown and Bridges & Dentures
At Tuskers Multispecialty Dental Clinic, we specialize in providing premier crown and bridgework along with dentures for our valued patients. Crown and bridge are restorations that are used to replace one or more missing teeth by joining an artificial tooth permanently to the adjacent teeth. Dentures are prosthetic devices designed to replace missing teeth; they are made of acrylic resin, sometimes in combination with metal components.
Crowns are a type of dental restoration which covers the entire surface of a tooth, providing protection and support by mimicking the natural shape and appearance of the tooth. Bridges, on the other hand, fill in any gaps left by missing teeth using artificial teeth that are secured in place with crowns and/or implants. The last option is dentures – perfect for those who have lost their natural teeth. They provide a secure and comfortable fit while allowing eating and speaking normally.
Our skilled dentists perform comprehensive dental examinations prior to recommending treatment, assuring our patients that their chosen method of restoring or replacing teeth is both safe and tailored to their individual needs. Crowns and bridges can be constructed from porcelain, ceramic, a variety of metals, or a combination of these materials depending on what is most suitable for the patient's condition. We make sure that our patients are informed about all options before making a decision about which material is best for them.
We take great pride in providing custom-fitted dentures that look natural, fit securely and provide exceptional comfort and durability. Our prosthetics feature precision construction processes that result in a precise form fitting fixture for your unique bite pattern. For people seeking aesthetic improvements on their smiles due to missing or damaged teeth, our team of professionals will help you obtain the top quality results you desire while helping you maintain healthy oral hygiene habits going forward.
At Tuskers Dental Clinic, we understand how important it is for our patients to be comfortable in their smile; therefore we commit ourselves to providing outstanding dental services using the latest technology available so each patient can walk away with a happy and healthy smile they deserve!