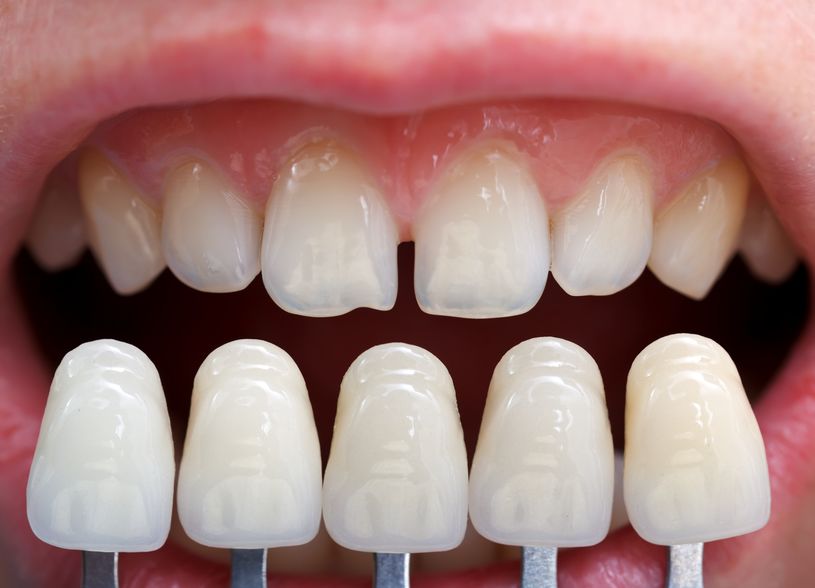 SMILE MAKEOVER WITH VENEERS/LAMINATES
Do you feel like your smile isn't as attractive or as bright as it should be? Are you unhappy with gaps, chips, or discoloration in your teeth that are making you self-conscious? At Tuskers Multispeciality Dental Clinic, we offer ceramic veneers to help give you the perfect smile.
Ceramic veneers are thin shells of medical-grade ceramic that are designed to fit over the front surface of your teeth. This highly advanced product is color-matched to your existing teeth for a seamless look and to maintain natural aesthetics. The veneers are used to correct aesthetic flaws; including chips and cracks, discoloration, gaps between teeth, and worn enamel. They can also create the appearance of perfectly aligned and symmetrical teeth. In addition to looking great, ceramic veneers are incredibly strong and durable—and can even have a lifetime guarantee when cared for properly.
The process of getting ceramic veneers is quick, comfortable and easy. One or two appointments may be all that's needed to get the perfect smile start: first impression) so that our dental laboratory can fabricate custom-made veneers for each patient based on their exact specifications; followed by preparation treatment. At the next visit our qualified dentist will check how many veneers must be used with special attention at colour selection and if it fits appropriately in your mouth. We ensure that every patient is fully satisfied before leaving our clinic with a long lasting beautiful smile!
For professional service without sacrificing quality nor style, choose Tuskers Multispeciality Dental Clinic's Ceramic Veneer program! Contact us today to find out more about what beautifully restored smile could do for you!
WE PROVIDE A MINIMUM OF 20 YEARS WARRANTY WITH OUR DENTAL VENEERS
Affordable Dental Veneers In Ahmedabad For Smile Makeovers Are you not satisfied with the colour, shape and size of your teeth? With the help of ceramic veneers Ahmedabad, you can attain a better smile on your face. Veneers are the perfect solution to encase the surface of your teeth and correct uneven or chipped teeth. Veneers are thin shells bonded to the surface of your teeth to improve their aesthetic appearance. Cosmetic dentistry in Ahmadabad uses dental veneers to perfect cracked, uneven or damaged teeth and restore the beauty of your smile. Tuskers Multispeciality Dental Care offers the best dental veneers Ahmedabad. It is a durable option to regain the perfect shape of your teeth. Once fixed, dental veneers last up to 20 to 25 years. Porcelain veneers in Ahmedabad is a one-time investment to rediscover the beauty of your smile. The lifespan of dental veneers may come down if decays develop inside, and it is a rare chance. Are You Considering A Smile Makeover? A smile makeover is a process of improving your smile with the help of various techniques of cosmetic dentistry. Application of veneer is one of the methods. Porcelain Veneer in Paldi is affordable for all. Thousands of people in Paldi have already opted for dental veneers and regained the colour, shape and size of their teeth easily. We have experts for ceramic veneers in Paldi. Take your appointment today to discuss the options available to correct the appearance of your teeth. We offer you cost-effective and right treatment options to regain your lost smiles. Tuskers Multispeciality Dental Care is specialized in painless dental implants in Ahmedabad. It is the most effective and ideal solution to replace your missing or damaged teeth. It is a surgical procedure,and an implanted tooth looks and functions like a natural one. Contact us today to know about various dental treatment options and make an appointment with efficient dentists.